The Christopher Group works with organizations in the San Francisco Bay Area to optimize production and performance.

We are located in Benicia, California, on the I-680 Business Corridor between the Benicia and Mare Island industrial parks in Solano County. We work with companies throughout the Bay Area, including Silicon Valley.

Our clients include manufacturing facilities, insurance companies, medical centers, investment banks, retail outlets, wineries and governmental agencies. To view our client list, click here.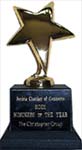 The Christopher Group was founded by Martha Christopher in 1998. The Christopher Group offers a unique blend of expertise in operations and human resource management. Martha gained experience as a manager at General Motors, NUMMI (joint venture of GM and Toyota), and Pinole Point Steel Company. She holds a master's degree in management from Yale University and a bachelor's degree in psychology and sociology from Brandeis University.

In 2002, The Christopher Group was recognized as Outstanding Business of the Year by the Benicia Chamber of Commerce.